September 17, 2018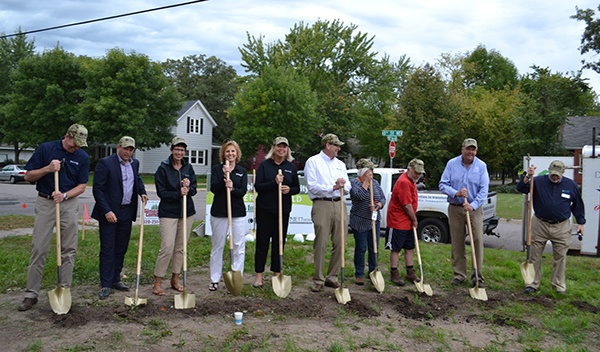 Military family gets a new home, volunteers get a chance to make a difference
St. Cloud, MN - Following months of planning, the ground was broken on September 17th in a ceremonial launch of the first "Veterans Build" in the state of Minnesota for Habitat for Humanity. Soon a slab will be laid and construction will begin; ultimately providing safe and affordable housing for a veteran family. The property is located near downtown St. Cloud, donated by a private party to Habitat to support its mission.
The house will be built by volunteers, along with more than two hundred hours of sweat equity by the new homeowner, family, and friends over the next 9-12 months. With oversight of Habitat, local contractors provide and supervise the work, and many gifts-in-kind from suppliers and builders will come together to make this home a reality. Once the home is complete, the chosen homeowner will purchase the home from Central MN Habitat for Humanity with an affordable mortgage and payment.
Quoting Habitat founder Millard Fuller, Minnesota's statewide Executive Director Chris Vosbeek shared a guiding principle the organization is founded on, "Life is both a gift and a responsibility." He went on to state that when community members come together, good things happen. The project launching in St. Cloud is a testament to that.
MidCountry Bank, Jacobs Financial, EMS and NETTwork Manufacturing provided key sponsorships to make this project a reality. "MidCountry Bank is pleased to be a part of this region's first Veterans Build project," said Steve Meads, President and CEO of MidCountry Bank. "We appreciate the opportunity to help a military family achieve their homeownership dream, while providing community volunteers and our local team members the chance to help construct this new home in the historic Northeast Wilson Park neighborhood."
Watch for more information and volunteer opportunities on the Habitat for Humanity – Central MN website www.cmhfh.org. Habitat for Humanity is always looking for folks who can lend a hand to complete this important work.

Representatives for Habitat for Humanity – Central Minnesota joined sponsoring partners MidCountry Bank, Jacobs Financial and property donors to break ground for the first Veterans Build project in the state.
---