March 20, 2020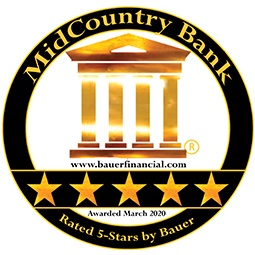 BauerFinancial, Inc., the Nation's Premier Bank Rating Firm, commends MidCountry Bank, Bloomington, Minnesota on its achievement of another 5-Star Superior Rating. Not only has MidCountry Bank earned Bauer's highest (5-Star) rating for financial strength and stability, it has maintained that top rating for 17 consecutive quarters. Earning this 5-Star rating indicates this bank closed out calendar 2019 excelling in areas of capital adequacy, profitability, asset quality and much more.
"As the president of BauerFinancial, I am often asked what it takes to be a 5-Star bank," reflects Karen Dorway, president of the research firm. "Like so many other things in life, success in banking boils down to knowledge. Knowledge of banking, of course, but knowledge of its customers and the communities the bank serves are equally important. This intimacy enables the bank to steer clear of danger and work with customers for a common goal. It's what gets so many community banks, like MidCountry Bank, through the tough times unscathed."
MidCountry Bank, a regional community bank headquartered in Bloomington, MN helping to make the community what it is today. Currently, MidCountry Bank operates through 13 conveniently located offices in and around the Minneapolis area (Apple Valley, Buffalo, Glencoe, Hastings, Hutchinson, Inver Grove Heights, Litchfield, Minneapolis, Minnetonka, Saint Cloud, Waconia, White Bear Lake and Winthrop). MidCountry was also recognized by the Minnesota Bankers Association as a Community Champion for its engagement in the communities it serves.
BauerFinancial, Inc., Coral Gables, Florida, the nation's leading independent bank and credit union rating and research firm, has been reporting on and analyzing the performance of U.S. banks and credit unions since 1983. No institution can pay for or opt out of a BauerFinancial rating. Star-ratings are all available for free at bauerfinancial.com.
---