February 1, 2018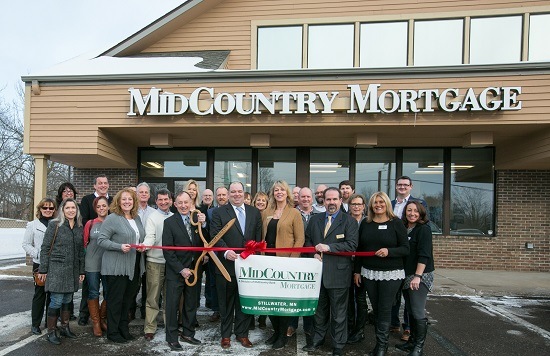 Stillwater, MN – The Greater Stillwater Chamber of Commerce celebrated the new offices of MidCountry Mortgage on February 8 in Stillwater. The MidCountry Mortgage Stillwater team was joined by their leadership, and other area MidCountry Mortgage professionals for the event which was also attended by Chamber Ambassadors.
MidCountry Mortgage is a division of MidCountry Bank, headquartered in Bloomington, MN. The mortgage division employs 40 lenders across the Twin Cities, with four full time loan officers and a dedicated loan processing specialist in Stillwater. They have been operating under present ownership since 2004.
For four years, MidCountry Mortgage was located in the downtown historic district of Stillwater. They made the move to their new offices on Greeley Street in October 2017 to gain added visibility, and convenience for their customers. "We are very happy to be in this very nice, larger space which allows for easy access and parking for our clients, and room for our growing Stillwater team!" stated Stillwater Mortgage Sales Manager, Gary McIntyre. Joining Gary in the Stillwater location are long time Mortgage Professionals; Jeremy Thompson, Deborah Randall and Jenny Peterson.
As a full-service lender, they offer niche products that provide the flexibility necessary to find a customized solution for most borrowers. With the ability to originate mortgages in all 50 states, MidCountry Mortgage also offers many portfolio loans that they service in house to offer customers the very best options.
MidCountry Mortgage is a leader in affordable housing programs and was recognized by the American Bankers Association in 2017 for its important work in this area. They have the capability to support Latino communities with multi-lingual services, and they recently added focus to new construction and renovation programs, both very important to the Stillwater area.
The MidCountry Mortgage team cuts the ribbon at their ribbon cutting celebration. Photo courtesy Kristina Lynn Photography & Design.
---