July 30, 2020
Central Minnesota Habitat for Humanity and MidCountry Bank have renewed their partnership to build safe and affordable homes for military veterans and their families. A $100,000 grant made by MidCountry Bank in July marks its second engagement with Habitat in Central Minnesota, and brings total bank contributions to this initiative to $175,000. "We are so grateful for MidCountry's care and support of service member causes, and of course this major gift and partnership in our local community. This provides important funding to complete our second Veterans Build in the area and anchor funding for a third. Our vision is to continue to serve the need for homes for veterans in the years to come," commented Rick Nelson, Central Minnesota Habitat's Executive Director.
The current project is located in Sauk Rapids, MN. With the build approximately 50% complete, MidCountry's timely grant will see it to completion. The house is being built by volunteers, along with more than two hundred hours of sweat equity by the new homeowner, family, and friends. With oversight of Habitat—as with all of their builds—local contractors provide and supervise the work, and many gifts-in-kind from suppliers and builders all come together in making these homes a reality; then, the chosen homeowner purchases the home from Central Minnesota Habitat for Humanity with an affordable mortgage and payment.
Steve Meads, President and CEO of MidCountry Bank stated, "We embrace the opportunity to join Central Minnesota Habitat for Humanity in making homeownership possible for veterans in our community. They have given so much for our country. It is a privilege to give back."
The search for qualified applicants for Habitat homes is ongoing. Further information, applications, and ways to become involved can be found at the Central Minnesota Habitat for Humanity offices in St. Cloud, or via their website: www.cmhfh.org.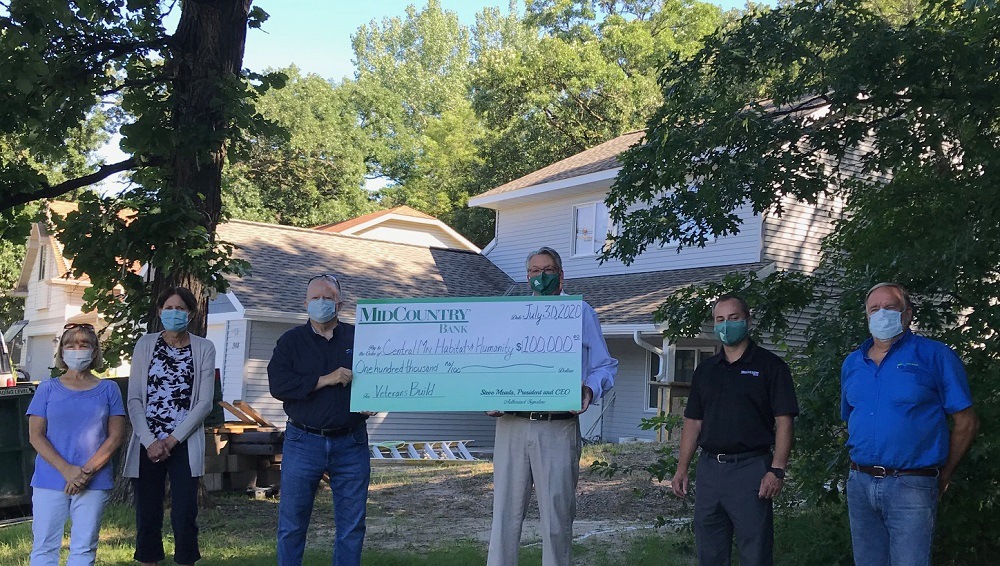 ---