July 28, 2020
MidCountry Bank has been a longtime supporter of the YMCA programs in Minnesota, with contributions of time, talent and financial support reaching back over 18 years. While all the programs it supports are varied and valued in the communities served, the Veteran Outreach program, piloted in 2016, drew special interest for MidCountry Bank. This unique program supports service members, military families and veterans with free and discounted programming, resources for mental health and brain injury support in conjunction with the Minnesota Brain Injury Alliance, and service project coordination with the local VA Medical Center and Minnesota Assistance Council for Veterans (MACV). To further its mission, MidCountry Bank made a $100,000 grant in late June, providing critical funding at a time when the need is especially great. The growing program is currently serving over 900 veterans and family members.
Steve Meads, President and CEO of MidCountry Bank explained, "MidCountry is honored to have the opportunity to give back to our community through the YMCA of the North. With this grant, we extend our support to active service members and veterans who have given so much to not only their community, but also to our country."
The YMCA has been doing its work in local communities for over 160 years. Its mission is to put Christian principles into practice though programs that build healthy spirit, mind and body.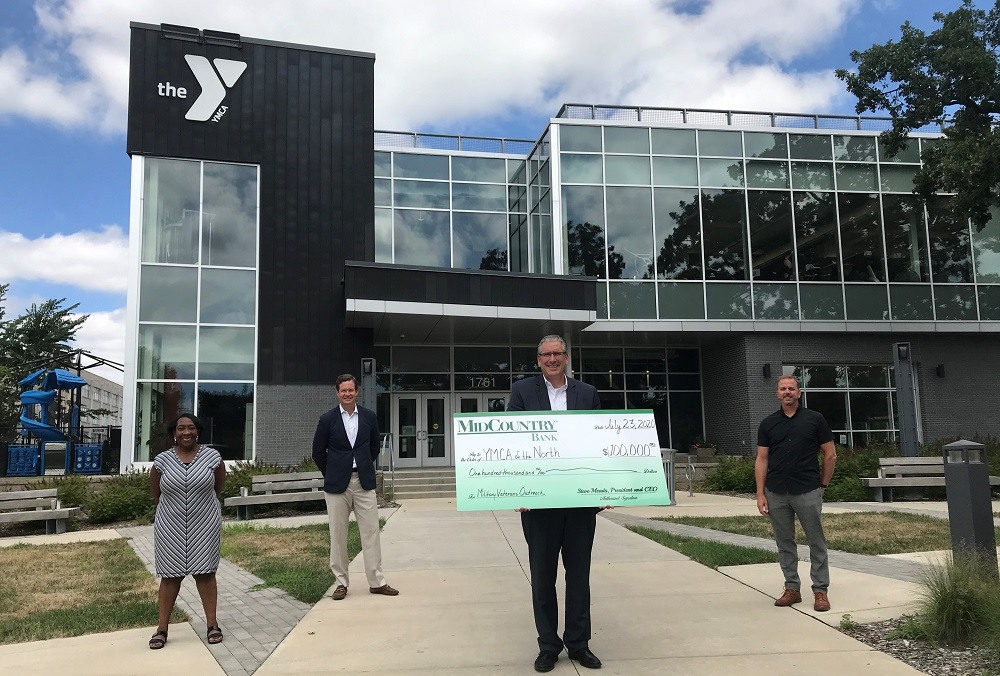 Left to Right: Hedy Lemar Walls, YMCA Chief Social Responsibility Officer; Glen Gunderson, YMCA President and Chief Executive Officer; Steve Meads, MidCountry Bank President and Chief Executive Officer; Greg Waibel, YMCA Chief Operating Officer
---