April 3, 2019
Twenty eight team members gathered at the Habitat site in St Cloud, MN to give just a little bit more on behalf of MidCountry Bank. A local Veteran family will assume ownership later this summer. It has been a privilege to partner with Habitat for Humanity – Central MN to make this happen.
The home, located on a donated residential lot near downtown St Cloud will provide this family a new lease on life. Brandon, who served the Navy as an Aviation Truck Specialist in Desert Storm wears leg braces, making stairs both difficult and dangerous. This efficient home design provides main floor laundry, a handicap-friendly main floor bathroom, and easy access to an attached garage. The family has been living in a deteriorating second floor apartment for over 25 years.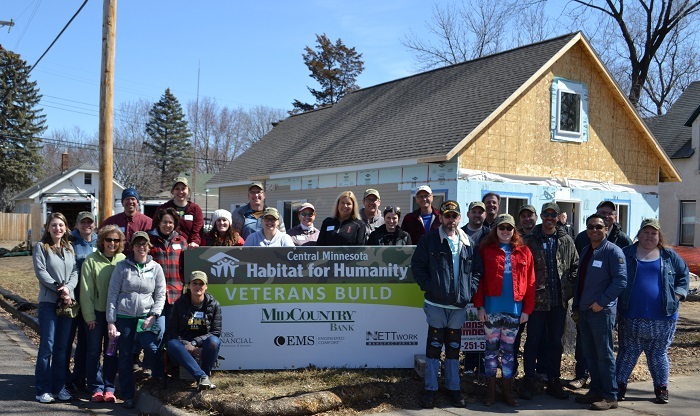 Habitat for Humanity does not give away homes, but provides affordable housing to qualified individuals who would be unable to obtain traditional mortgage financing. The selected homeowners become an active partner with Habitat, and are required to offer 200 or more hours of sweat equity which can be met by attending educational home ownership programs, providing labor, and partnering with Habitat on other community activities leading up to the closing on their property.
This project is especially unique in that it is the first Veteran-specific Habitat Home in the state of Minnesota. Due to the strong collaboration this project has experienced with other service organizations serving the Veteran community, a second Veteran project is already slated to begin later this year.
Steve Meads, President and CEO of MidCountry Bank worked alongside the volunteers, and shared his thoughts on the project "MidCountry Bank is committed and responsive to the needs of its communities. This project offered a unique opportunity to provide affordable home ownership to a family who has served our nation's military. It is extremely rewarding to see this come together, and to know that we played a part in that."
For more information about this project or to sign up for volunteer opportunities, go to the Veterans Build page on CMHFH's website.
---