March 25, 2022
MidCountry is no stranger to Habitat for Humanity's "Veterans Build" program. Over the last couple of years, MidCountry has joined to help build houses for veterans in St. Cloud (2018) and Minneapolis (2019). Over the last few months, MidCountry has been working with the Crow River chapter for Habitat for Humanity on the newest build located on North Baldwin Avenue in Northeast Glencoe. Plans for this build started back in 2021 with a ground blessing ceremony on June 6th, where MidCountry contributed $50,000 to help with the construction costs and pledged to match an additional $50,000 raised by donors, encouraging community engagement.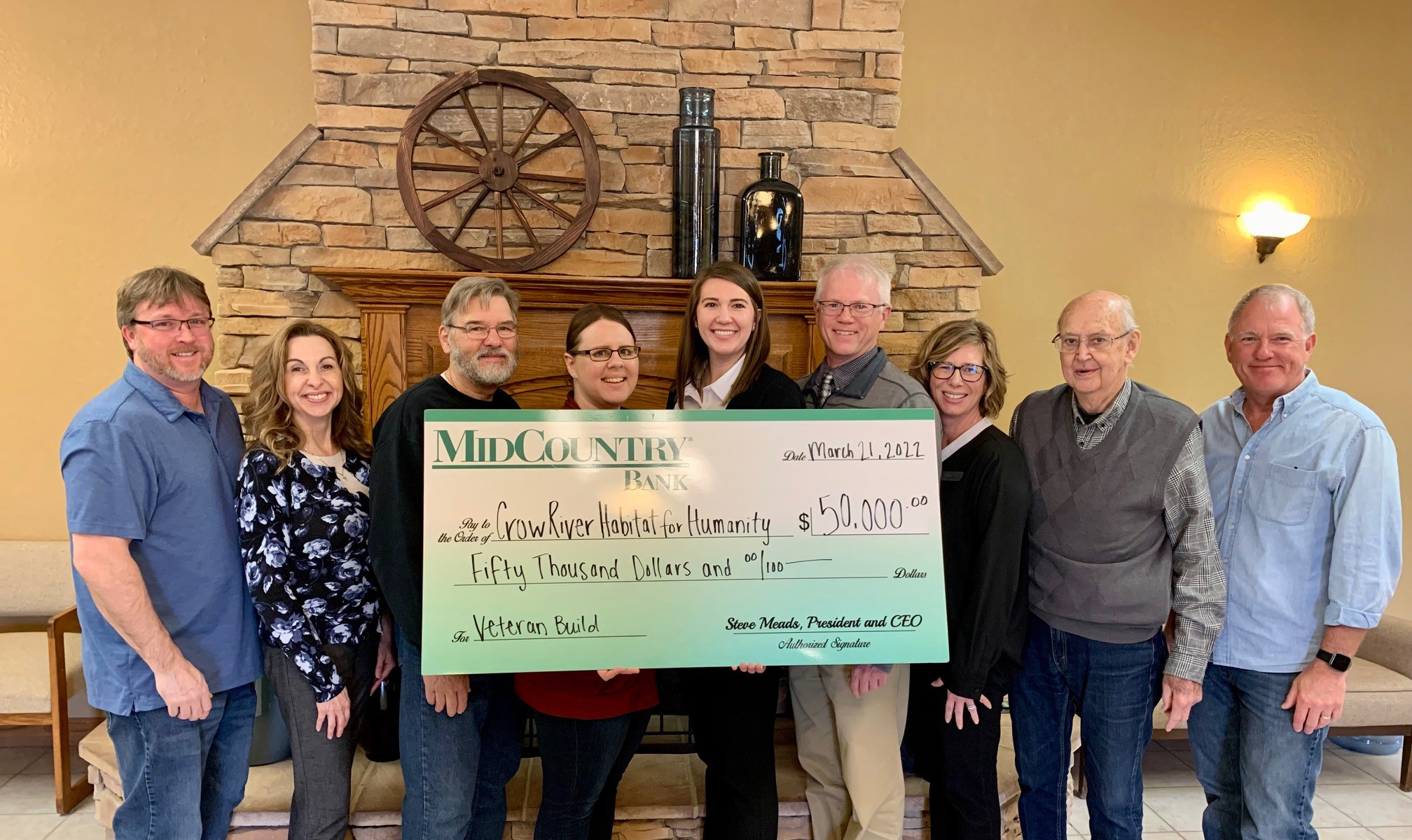 As of March 11th, thanks to the immense support of our local community, MidCountry has reached their target donation goal of $50,000. Payton Eastman, Ag Lender at MidCountry Bank shared, "It was very awe-inspiring to see the community come together to support a Veteran in building their forever home. It was especially inspirational to have such a positive community involvement during such a trying time." On March 21st, members of the Crow River Habitat for Humanity and MidCountry Bank gathered at the local Habitat office in Glencoe where they were presented with the $50,000 check.
MidCountry Bank Branch Manager of Glencoe and Hutchinson, Nicole Grobe, in speaking of this incredible program, says: "It's so exciting to be a part of a project that has so much community support for a well deserving individual. The money that was donated throughout the community and the volunteer support on the project solidifies how important programs like these are to the people of our county."
The build is scheduled to be completed within the next couple of weeks, the remaining work includes cabinets, a garage door, and laying down external concrete. The lucky soon-to-be homeowner is a veteran who has lived and worked in Glencoe her whole life and is the 28th recipient of one of these homes.
Watch for more information and volunteer opportunities on the Crow River Habitat for Humanity website www.cmhfh.org
---