September 1, 2018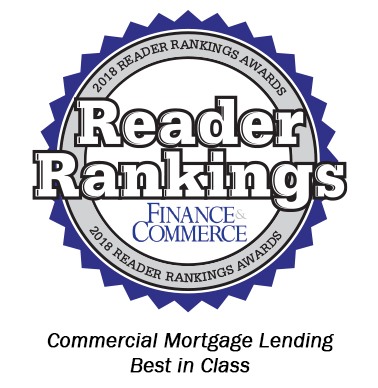 Bloomington, MN - MidCountry Bank is honored to be selected as the Reader Rankings Best in Class Commercial Mortgage Lender by Finance & Commerce.
Steve Meads knows that banking customers have many choices in the Twin Cities. As president and chief executive officer of Mid- Country Bank, he works hard to make sure that more of them are selecting his bank.
Why does he think MidCountry stands out?
"We have knowledgeable people, we can make quick decisions, and we are easy to do business with," he said.
MidCountry has a long history in the Twin Cities. It was formed in 2003 with the acquisition/ merger of four banks but has a 100-year history before that. The bank, with $775 million in assets, currently serves the central Minnesota region through a network of 15 full-service branch offices.
While the bank is interested in helping customers with all their financial needs, there are a number of areas of emphasis these days: commercial real estate, business banking and home mortgages, particularly for first-time homebuyers.
"Our strengths are in those niches," Meads said. "We really make a conscious effort to focus on them in this competitive marketplace.
"We are lucky in the Twin Cities to have a very diversified economy. We are strong in health care, agricultural, technology, education and manufacturing. We aren't dependent on just one industry. We have an overall, vibrant economy."
Meads wants to continue growing the bank. For him,, that means having the right people, focusing investments on the best technology and keeping paperwork to a minimum.
"Regulations drive so much of what we do," he said. "We really feel like we present all the information in a thoughtful manner, and walk our customers through it in an easy-to-understand way.
"The easier the processes are, the faster we can help them."
Meads emphasizes the community bank aspect of MidCountry's mission. Community service extends to the community through partnerships with organizations such as the Central Minnesota Habitat for Humanity. This summer the bank announced plans to partner with Habitat to help build a home for a veteran family in St. Cloud.
The bank has a demonstrated commitment to veterans causes. Last spring more than 50 Mid- Country team members joined with Rebuilding Together Twin Cities to do repairs on a veteran's home.
The home, located in the Bryant neighborhood of south Minneapolis, has been the veteran's for more than 16 years. It has been in her family for more than 70 years. The team completed projects such priming, painting and staining, carpet removal, laminate floor installation, fixing windows, etc.
The bank was recognized by the Minnesota Bankers Association earlier this year for its efforts. MidCountry was one of 38 banks to receive the association's Community Champions designation.
The bank wants to find customers the right product for the right solution, Meads said.
"We are not a large, regional bank," Meads said. "We want to know our customers; to build relationships."
---