Perseverance Gets Credit for Longevity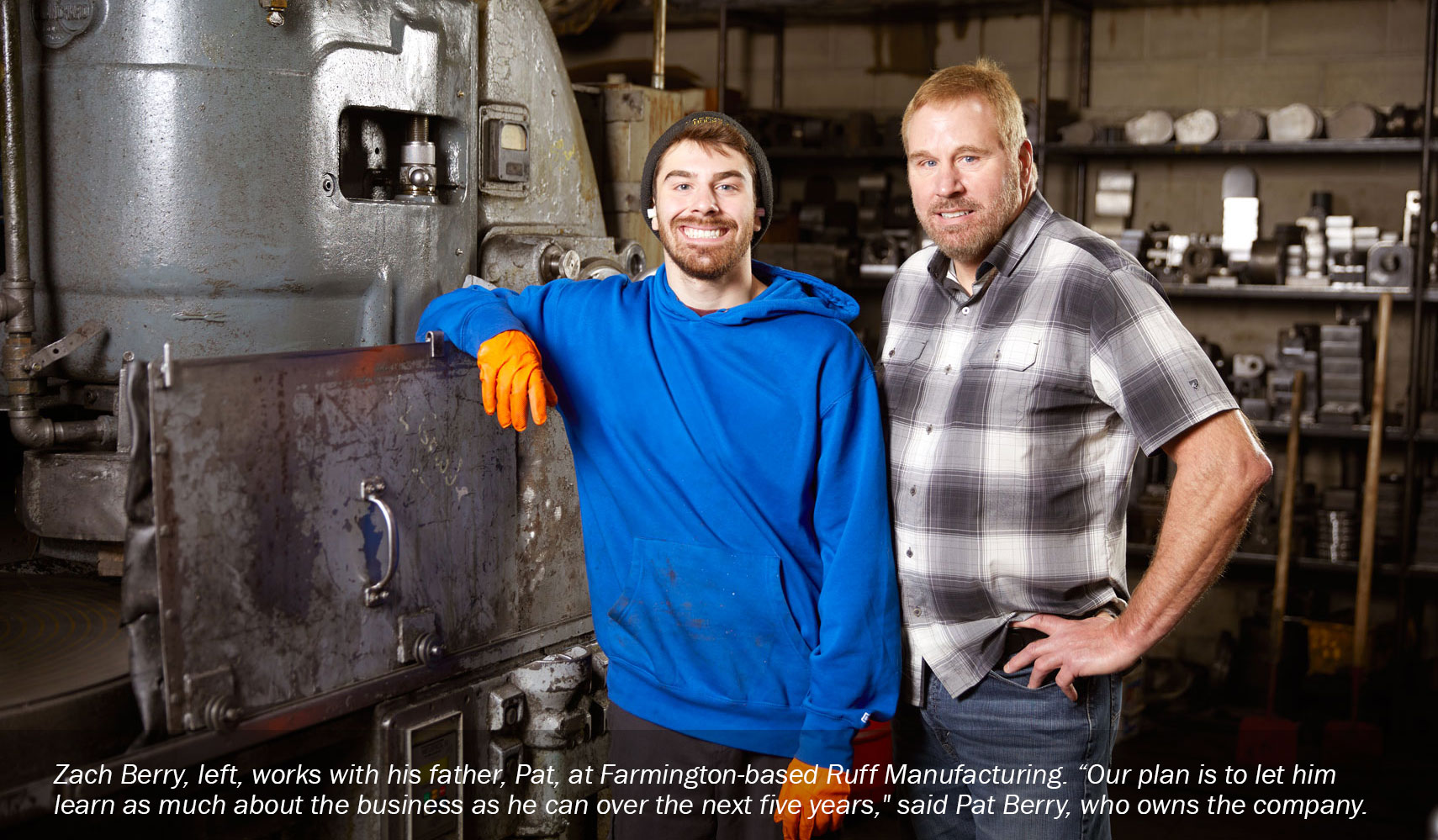 When Pat Berry says it's hard to find people willing to work in the manufacturing trades, he's speaking from experience. One recent hire walked out after just 15 minutes on the job.
"Believe it or not, yes," said Berry, who owns Farmington-based Ruff Manufacturing. "I stepped away to do something, came back a few minutes later, and he was gone."
Ruff Manufacturing is a heavy-steel fabricator and flame-cutting specialist, one of more than 700,000 manufacturing businesses in the U.S. fighting for a shrinking talent pool. According to a 2021 study by Deloitte and The Manufacturing Institute, the U.S. is on track to have 2.1 million unfilled manufacturing jobs by 2030 as retirements, combined with new job growth, outpace efforts to attract and train new workers.
Unlike a lot of businesses recruiting for trades jobs, Berry has an inside track on emerging talent: his 20-year-old son, Zach. Zach joined Ruff Manufacturing two years ago and has been splitting his time between learning the business and taking college classes. "Our plan is to let him learn as much about the business as he can over the next five years, from running the machinery to the administrative part of it," Berry said.
At the end of that time, Zach can decide if he wants to become a second-generation business owner. Already, he has recruited two of his friends into the business. "They've turned out really good," Berry said. "They're both mechanically inclined kids, and they're working part time, probably 12 to 14 hours a week. We're trying to develop them so, within a year or two, when they're done with school, they can come on full time."
30-plus years of ups and downs
Zach and his friends have joined a company with a rich history. Ruff Manufacturing's roots date to 1985 when Pat Berry was working at a large fabricating company in Bloomington that closed. He and a coworker bought some of the equipment and struck out on their own, focusing on flame cutting and steel fabrication.
As the business grew, Ruff Manufacturing developed a reputation for delivering high-quality work on short timelines. It competes with much larger steel businesses by being strategic about keeping materials on hand and offering quick turnarounds. Today, it has eight employees and serves customers primarily in the seven-county Twin Cities area.
"Pat's company just always comes out on top," said Lisa Franxman, Market President for MidCountry Bank in Hastings, who has worked with Berry since 2002. "They are consistent and stable. Things can kind of put him down, but he just gets right back up. There have been a number of things thrown at this company, but to go through all of those and still have long-term employees, it says a lot about his leadership style."
Ruff Manufacturing's core team of employees has been with the company for close to 30 years, a tenure Berry attributes to a combination of good salaries, benefits and a level of flexibility that many companies only recently started to embrace.
That degree of employee commitment has helped the business weather tough times. When the recession hit in 2009, for example, the company cut work schedules back to 32 hours per week without losing key personnel.
"I had to refinance my house and my business to come up with cash to keep things going," Berry said. "We worked through it. It took a year and a half or two to get back up to where we were."
By 2019, Ruff Manufacturing was on track for record sales. Then, the pandemic hit. "All of a sudden, everything just got shut down," Berry said. "Our sales were cut in half, basically, immediately."
Ruff Manufacturing wasn't alone. The pandemic caused the second quarter of 2020 to have the largest decline in U.S. manufacturing output since World War II, with fabricated metal products among those hardest hit, according to the Bureau of Labor Statistics. While some sectors, such as motor vehicles and parts, rebounded quickly, fabricated metals were still slightly below fourth-quarter 2019 levels by mid-2022.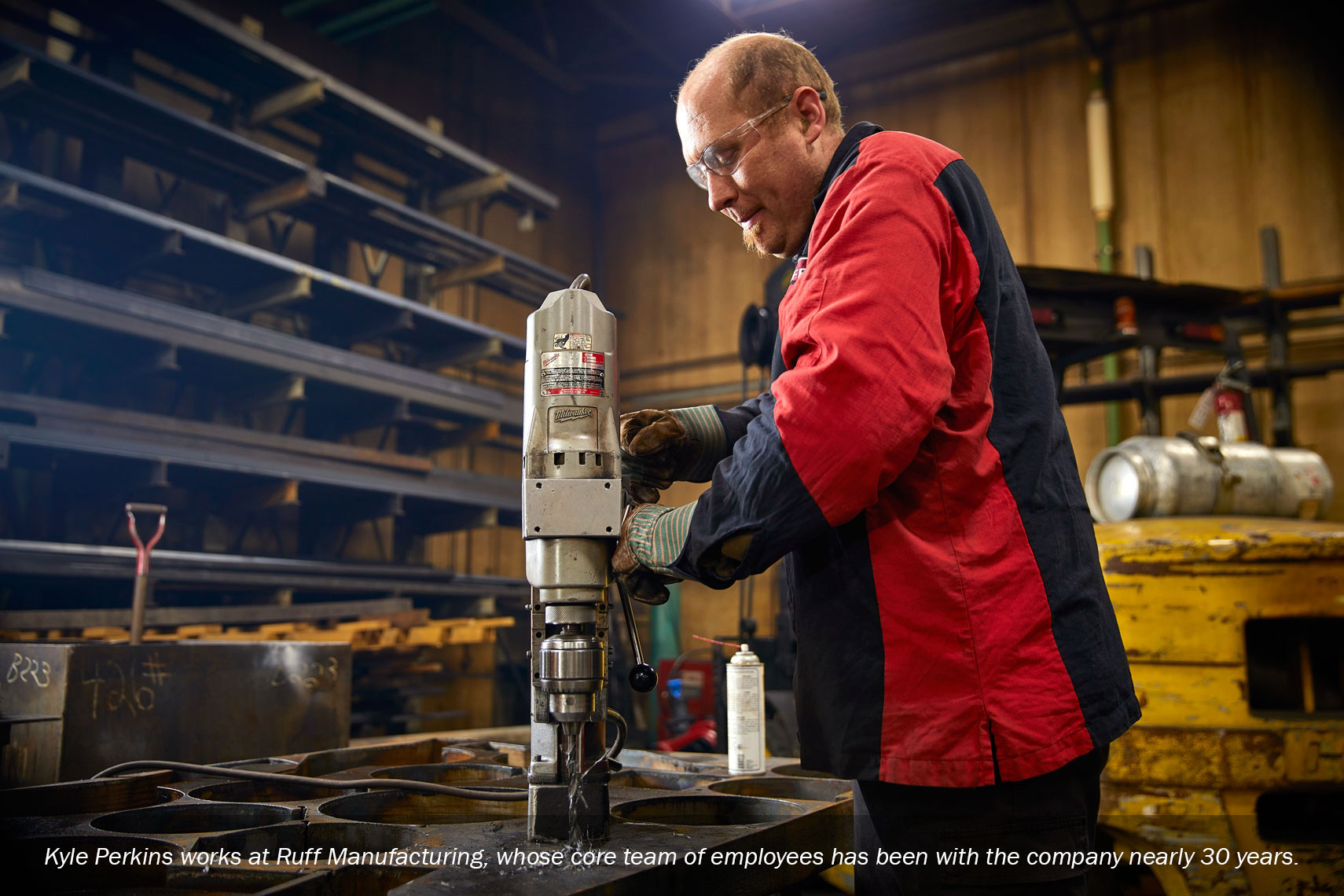 Berry worked with MidCountry Bank to apply for the Small Business Administration's Paycheck Protection Program early in the pandemic. It received two PPP loans. The money meant the company could keep its entire team on payroll.
"That was the whole goal of the program, to keep people employed," Franxman said. "It worked extremely well. After the first round of PPP loans, we were able to do the second round much more efficiently, and it saved a lot of companies."
Plans for growth
Like many small business owners, Berry wears many hats. Owner and founder may sound glamorous, but many days that means driving a truck to make deliveries, serving as a machine operator and cleaning parts, while also being responsible for sales, marketing and administration. "When you're running the company, you're not just running a machine," he said. "You've got a million things going on through your head. You're trying to navigate through everything and plan ahead for six other guys to make sure they have work to do and keep things moving smoothly."
Having strong relationships with professional partners, such as the one with MidCountry Bank, has been particularly helpful, Berry said. In addition to the PPP loan process, he worked with MidCountry to finance the buyout of his business partner, who was ready to retire. Today, Ruff Manufacturing is on pace to close 2022 with $1.8 million in revenue.
As Ruff Manufacturing heads into 2023, Berry sees more growth on the horizon. The business has been taking on more machining work and expanding its Blanchard grinding department, which creates a flat surface on steel plates.
Most of the company's sales come from word of mouth. "We treat everybody the same way," Berry said. "If a small company calls and wants something done in a day, we do it, and if a big corporation wants 100 pieces done in a couple of weeks, we'll do that, too."
Obtaining enough material from a tight supply chain – and, of course, more employees – are the only constraints, Berry said. "For me, our growth potential is unlimited."
Source: Minneapolis St. Paul Business Journal and Lauren Lawley Head – Contributor

Finding New Purpose

Manomin Resawn Timbers is a thriving building materials company specializing in repurposed wood that has attracted a national audience. What started as a small local operation based out of Hugo, MN is expected to grow exponentially in the years ahead, as the company diversifies from residential projects into commercial applications. Punch Pizza, Ralph Lauren's 5th Avenue, New York showroom and various stadiums and airports showcase the Manomin product as the rustic look continues to appeal to a broader market.
Manomin's core product line is antique wood flooring, with wood paneling, timbers and custom applications such as doors, furniture and fireplace mantels milled primarily from reclaimed barn wood rounding out other sought-after finishes.
Leveraging years of experience and testing, wood timbers and boards are carefully reclaimed from turn of the century barns, outbuildings and industrial spaces. Applying modern technology, the wood is de-nailed, treated and prepared in a way that preserves the age-old patina while providing a reliable building material that is free from toxins and parasites.
Manomin has laid impressive groundwork for a Minnesota-grown company that employs 16 full time employees. With the recent expansion into commercial project lines quickly driving 30% of its revenue, MidCountrty Bank has been alongside her, providing key financing and business planning resources that help her manage for the long term. Robert Morse, Business Banker for MidCountry Bank commented, "Sarah has shown leadership and resilience during challenging times. We look forward to seeing her continue to grow."
Londerville recognizes the opportunity to leverage the talents of the millennial workforce, and has already begun to tap this resource. Manomin expects to benefit from this approach strategically by engaging a demographic known for environmental and socially conscious leanings. The fit goes beyond mission/vision/values by building bench strength in technology, marketing and R&D.
The popularity of reclaimed wood as a design feature, proliferated by HGTV programs such as "Fixer-Upper" has fueled competition in recent years. Most competitors find out quickly that what seems so simple is not. Owner Sarah Londerville attributes her success in part to her intense work ethic, cutting her teeth at a young age in scrapyards and learning how to work with a broad spectrum of people in her business dealings. Not only did her experience instill core values that drive her business model today, it has required her to be more resourceful. Over time, she has learned to diversify her product and recognize design trends early that allow her to adapt sales strategies.
Additionally, Londerville's focus on quality has given her the confidence to position Manomin's product in a way that is not price driven. She offers consultation and is willing to walk away from a sale rather than compromise on projects she knows are not viable. Manomin is a hands-on company that takes great care to understand customer needs, and to set appropriate expectations based on an intimate knowledge of the product. This approach has resulted in a growing portfolio of clients, builders and designers becoming advocates for the value and reliability of the Manomin brand.
Lifelong Learning Drives Business Success
When you hear stories about the man behind the business, it is easy to see why Joel Meyer has found success in his ventures. He learned the value of hard work early in life, as his parents, both Minnesota educators, owned and operated a resort in central Minnesota near Brainerd. And even as he started his own teaching career in Litchfield, he had his sights set on "doing what Dad had done." For Joel, his vision was more than nights and weekends. The math teacher put his analytics to work, spending nearly five years researching businesses that he felt would be viable opportunities. In early 1999, he found a match.
Papa Murphy's Pizza was new to the Minnesota scene, but Joel liked what the brand and its high quality standards had to offer. The concept of "take and bake" was a good option for busy families who value fresh and healthier alternatives to feed their hungry mouths. As a teacher and football/wrestling coach, he knew the target market well, and decided it was a good fit for him. He and his wife Jane opened their first store in St. Cloud, MN only the tenth Papa Murphy's franchise in the state.
Admittedly, it took a while to take hold. In his words, "the market was skeptical." But take hold it did, and Joel continued to expand his holdings. In 2001 he opened locations in Alexandria and Brainerd. Then, in 2003 he expanded by making his first store acquisition in Fergus Falls, MN. Joel quickly shared that this store is one of his "favorites," as its performance quickly doubled, then tripled in volume, truly showcasing what good management can do.
Fast forward twenty years, and Joel has grown his portfolio to 35 locations and nearly 400 employees, geographically dispersed in the Duluth/Iron Range area, central Minnesota, southern Wisconsin and Kansas. His own family has grown, and he is now proudly mentoring his son Nic in the finer aspects of business ownership, sharing that his "biggest joy is watching Nic outperform other stores and reach for more." Nic is currently the store manager for Hutchinson, and also oversees the St. Louis Park location.
MidCountry Insurance Agent Candace Bollman approached Joel a few years ago to review his business insurance coverage and run comparisons against other carriers to make sure he was not paying too much. Candace offered that many business owners benefit from taking a new look at health coverage options. She elaborated, "With so much changing in the healthcare area in recent years, there are often ways to reduce cost or gain better coverage by updating your program." This review resulted in a new employee group health plan for his full-time employees (same coverage, lower premium), and the beginning of a great insurance partnership. Since then, Candace has worked hard to find Joel other ways to support his business, structuring additional business liability programs for his expanding real estate holdings. Joel's keen attention to cost savings opportunities, coupled with service and value play important roles in his decision making. Joel explained, "I had a long term relationship with another provider, which I was not disappointed in, but eventually shifted because Candace worked hard for it."
That gives you a glimpse into what drives Joel Meyer. Joel continues to look for ways to improve his business operations and find new ways to drive profit. But he also enjoys the opportunity to teach. His jobs teach countless teens the value of hard work and responsibility. His son learns the sacrifice and rewards of building a business. And Joel looks forward to the day he can turn the franchise reins over to his protégé, and focus on managing his real estate holdings in his "retirement" years.
A Lesson in Resilience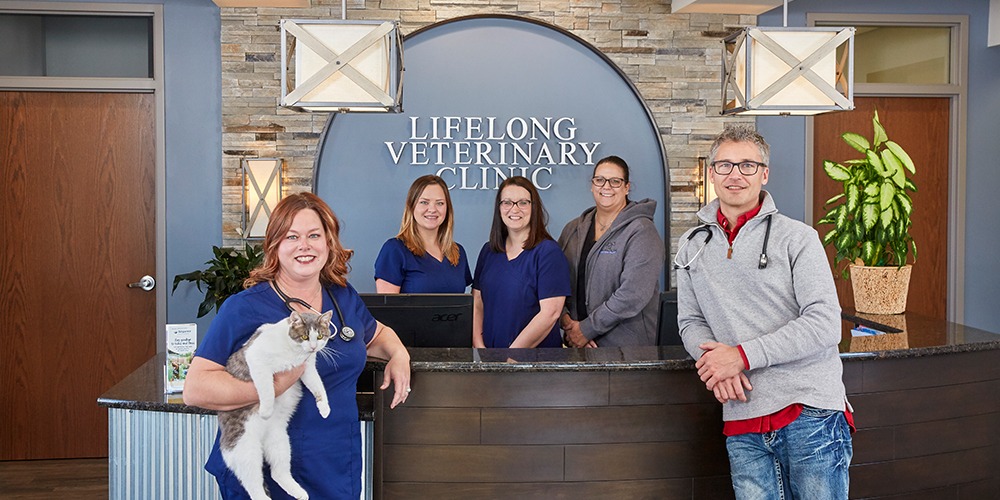 Left to Right: Dr. Angie (Ladwig) Gearey, Kenzie Ergen, Lindsay Miller, Heidi Schoenecker and Dr. Carl Larson of Lifelong Veterinary Clinic.

Like many industries, veterinary clinics are undergoing changes that provide both challenge and opportunity. For one local business, the vision of its owner has helped it achieve growth, even during these uncertain times.
While growing up in Bloomington, Minnesota, self-proclaimed "city kid" Carl Larson picked up a part time job cleaning kennels at a local pet hospital. This humble beginning taught Carl valuable lessons on how veterinary clinics work, sparked his love for the profession, and inspired the beginning of his career. It was midway through his studies in college that he recognized that applicants with farm experience on their resume held an advantage when it came time to starting veterinary school admissions, so he stayed with out-of-town family to connect with a mentor located in Watkins, MN.
What began as a way to enhance his resume exposed Larson to the world of "mixed practice" veterinary medicine, and set the path for his future. The Watkins clinic provided vet services to traditional household pets such as dogs and cats, but also supported production animals on farms, "equine athletes" (show horses), sheep, and goats, and other less common specialty vet services. Not only did this job shadow opportunity provide invaluable experience to enhance his academic studies, it exposed Larson to the need for vets in the field. He loved the diversity, and the ability to meet with his clients in their environment. The other strategic element that Larson observed was the fact that many veterinarians in the area were aging, and looking for a way to transition their practices and retire.
And so it began. Soon after graduating from the University of Minnesota Veterinary School in 2007, Dr. Carl Larson joined practice with the Watkins clinic he had mentored under. After 1 year as an associate, he became partner in the business he owns today. Similar expansions took place in Kimball and Litchfield. And when he saw a need but not a clinic, he used his experience and vision to launch startup clinics in Maple Lake and Hutchinson.
As he has grown his business, Larson has been particularly adept at leveraging and developing talent in his organization. Dr. Angie (Ladwig) Gearey worked in the Hutchinson market for ten years under another partnership prior to joining Larson's practice in Kimball in 2014. Ultimately it was her dream to rebuild her practice in Hutchinson, and they worked together to find a solution that would help her fulfill that dream while supporting the growth of his organization. Dr. Angie worked with Larson to evaluate and select the current clinic location at 905 Highway 15 S, and develop their local business plan. To this point, Larson had worked exclusively with a large national bank, but he turned to MidCountry Bank for his expansion financing in Hutchinson. It was a natural fit, as the property selected had been a retired MidCountry Bank facility. Larson's business banker had also moved on, allowing a new relationship to be formed with MidCountry a Bank's Commercial Banker.
Since its launch in Hutchinson in late 2018, Lifelong Veterinary Clinic has proven that there was room for three vet clinics in town. The market is growing, and Lifelong is nearing a point where a second doctor may be added to support Dr. Angie's expanding client base. Dr. Angie is proud of what they have already accomplished, as she shared, "Being able to provide veterinary service in the city I call home, and where I already have a relationship with most of my clients has been the best part of opening Lifelong. The name of the clinic, our interior design and most importantly our business motto focuses on the special bond between people and their pets. As such, we as a clinic also focus on the relationships we form with our clients. We want all of our clients to leave our clinic feeling like they are family and that we care for both them and their pets like our own."
As with countless other service industries, COVID-19 has had an impact on veterinary clinics. As the pandemic took an early foothold and Minnesota Executive Orders were put into place, elective procedures were halted to preserve essential Personal Protection Equipment (PPE) until supplies could be inventoried and distributed as required. This immediately halted procedures such as spays and neuters, the "bread and butter" that pays the bills and keeps staff employed. The practice has had to close 2 clinics at different times due to COVID exposures, as well as accommodating several self-quarantine incidents with employees over the past months. Fortunately, the relationship established with MidCountry Bank helped Larson get quick access to the PPP funding, designed to support small business owners.
When the elective procedures were released again in June and July, the combined Larson clinics had over 1000 on the waiting list, a list that they worked all summer to get caught up on. Ironically, the stay at home order resulted in an increase in veterinary care overall, possibly due to the increased awareness of pet health issues while many are working remotely. The good news is Larson is navigating this pandemic effectively, with no furloughs or layoffs to his staff, and a steady demand on the horizon.
When asked what he is most proud of, Larson was remarkably humble in his response. His measure of success has been to "continue to achieve growth by helping others achieve their goals." In an industry becoming infiltrated by corporate owned clinics, his ability to support local talent and provide mentorships to young veterinary students should be applauded. His goal to facilitate a path into practice without the financial hardship that often dissuades new veterinarians is truly a business model MidCountry is honored to support.
Sara Butruff and Travel Leaders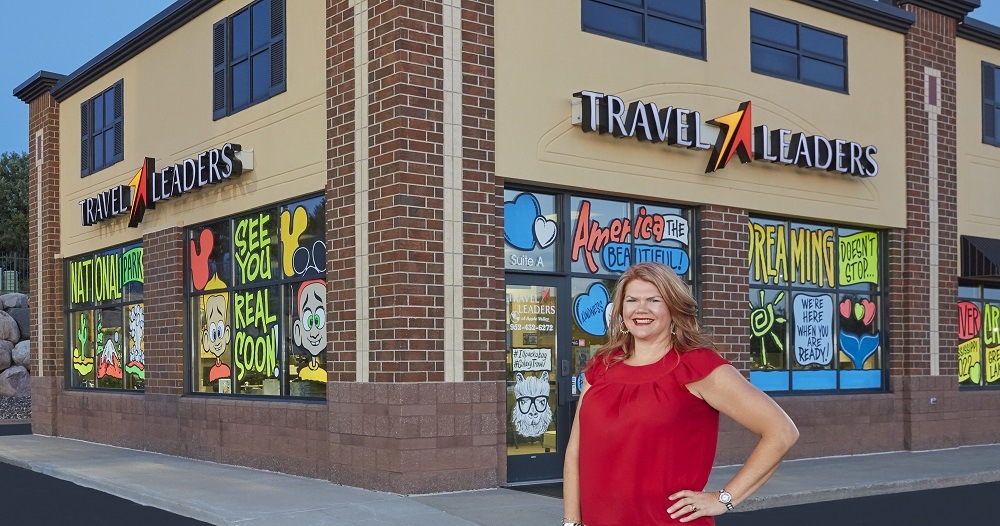 Sara Butruff is owner of Travel Leaders, an independent agency with offices in Apple Valley and Owatonna, Minnesota. She has been in business since 1999.
Sara Butruff has always been driven to help others, but after working hard to build a clientele in the travel industry, it was time to see her own dream become reality. Sara knew that in order to move up in her chosen profession, her best option was to be her own boss. So, nearly twenty years ago, she invested in her first agency, a Travel Leaders franchise located in the quaint downtown of Farmington, Minnesota.
Her work ethic paid off, and as her referrals grew, so did her business. Soon there was an opportunity to acquire an additional agency in Apple Valley, Minnesota and in 2005 Sara merged the operations together and moved to Apple Valley. More recently, she added a new location in Owatonna, Minnesota. When asked how she differentiates her services, Sara is quick to respond that, "It is all about being engaged". Sara finds her niche in smaller communities where she can get to know folks, and provide a service that is not always available locally. With her values rooted deeply in community, Sara invests time as a Rotarian as well as being active in the local Chamber of Commerce. To Sara, this time not only fulfills her desire to help people, but serves as her best marketing strategy by showing her community that she is "good people". That kind of thinking is important to the Midwest culture, after all!
The year 2020 hit the travel industry hard as COVID-19 took hold of our nation, and Travel Leaders was not spared. Sara acknowledged that it has been a challenge as a business owner. "The Payroll Protection Program (PPP) offered by the SBA has been crucial, and the expert guidance of Lisa Franxman (MidCountry Bank) was instrumental in helping me to receive the funding I needed to support my business." For now, Sara focuses on what she can control. She, like many other businesses navigating COVID-19 has had to make some tough decisions to adjust to the current reality. Still, she is optimistic that medical advancements will eventually help her return to helping her clients plan the trip of their dreams. Undoubtedly, there will be more than a few that are ready to venture out!